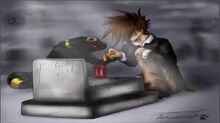 In Pokèmon gibt es viele Mythen, Creepypastas und Theorien. Eine Davon ist Rattikarls Tod. Nachdem man auf der M.s. Anne gegen seinen Rivalen ( in Pokèmon Rot Blau Feuerrot und Blattgrün) kämpft befindet sich sein Rattikarl nicht mehr im Team als man gegen ihn im Lavandia Turm Kämpft. Daraus entstand der Mythos das es nicht mehr rechtzeitig geheilt wurde und gestorben ist.
Der Lavandia Turm ist ein Pokèmon Friedhof. Der Rivale meine das der Spieler keinen Grund hat hier zu sein, weil keines seiner Pokèmon verstorben ist. Da nimmt an das wenn sein Rattikarl nicht gestorben ist er auch keinen Grund hat dort zu seien. Weiter sagt er noch Sprüche. In der deutschen Version sagt er "Deine Pokèmon sehen fit aus " aber in der englischen Version sagt er " Your Pokèmon don't look's dead" zu deutsch" Deine Pokèmon sehen nicht tot aus" . Am Anfang ist er nur... komisch und genervt wegen seinem Opa aber ansonsten ist er ganz hilfsbereit. Nach diesem Kampf wird er immer zerfressener. Laut Mythos hat er sich in der M.S Anne verirrt und als er in der nächsten Stadt auf dem weg ist es angeblich schon Gestorben. Als er im Pokèmon Center ankommt sagt die Schwester ihm das sie nichts mehr machen könne.
Was haltet ihr von Dem Mythos? Ist er Wahr ist er Falsch? Schreibt es in die Kommentare.
Ad blocker interference detected!
Wikia is a free-to-use site that makes money from advertising. We have a modified experience for viewers using ad blockers

Wikia is not accessible if you've made further modifications. Remove the custom ad blocker rule(s) and the page will load as expected.