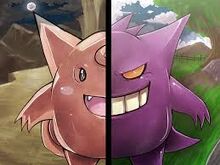 In Pokèmon gibt es viele Mythen und Creepypastas. Eine ist die " Genger ist ein totes Pixi" Theorie.
Sie sehen sich sehr ähnlich von Körperbau, sie wiegen fasst gleich ( Pixi 4,00 Genger 4,05) , sie leben beide in den Bergen nur mit dem Unterschied das Pixi es mag im Mond zu tanzen und Genger bei Mond anderen Menschen und Pokèmon ihr Leben raubt. Pixi ist Typ Normal und Genger ist Geist diese Typen können sich gegenseitig nichts anhaben. Genger ist aus der Dunkelheit entstanden, da kommt die Vermutung das es eine Manifestation aus Pixis böser Seele ist.
Was haltet ihr von der Theorie? Denkt ihr das sie War ist oder Falsch? Schreibt es in die Kommentare.
Ad blocker interference detected!
Wikia is a free-to-use site that makes money from advertising. We have a modified experience for viewers using ad blockers

Wikia is not accessible if you've made further modifications. Remove the custom ad blocker rule(s) and the page will load as expected.