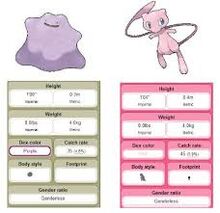 In Pokèmon gibt es viele Mythen und Creepypastas. Diese ist eine Theorie. Das Ditto der Fehlversuch eines Mew Klons.
Die Farben sind...ähnlich. Ditto sieht so aus wie ein Fehlklon, Sie können beide alle Attacken erlernen, als Shiney haben sie genau die selbe Farbe, sie wiegen beide genau 4 kg und Ditto ist genau 100 cm kleiner. Sie können beide Wandler erlernen und im Pokèathlon teilen Sie sich genau die selben stärken. Ditto findet man überall an Orten die mit Mew oder Mewtu zu tun haben.
Das einzige was dagegen spricht ist das Ditto schon am Anfang geplant War und Mew ganz am Ende.
Was haltet ihr von dem Mythos? Ist er wahr ist er falsch? Was denkt ihr schreibt es in die Kommentare.
Ad blocker interference detected!
Wikia is a free-to-use site that makes money from advertising. We have a modified experience for viewers using ad blockers

Wikia is not accessible if you've made further modifications. Remove the custom ad blocker rule(s) and the page will load as expected.